The Bills Screen is the second tab on the bottom navigation bar and is represented by the

icon (envelope with a paper bill inside).

The Bills Screen contains all of your Bill Qubes. Let's review how this screen is organized.
1. At the top, you will see three familiar icons:
Create New Qube

, Move Money

, and Notifications

.
2. Below the word Bills, you can see the total number of Bill Qubes you have created, the total Bill Amount (sum of all bill amounts for all bill qubes), and the total Balance (sum of all bill qube balances).
3. You can use the Sort by menu to sort your qubes into your preferred order.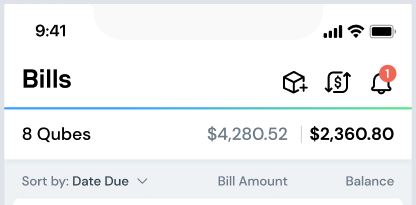 4. Each bill qube cell on the Bills Screen shows helpful information at-a-glance. There are some differences in the information shown between Virtual Bill Qubes and a Merchant-Locked Bill Qubes, so let's take a look at both:
Virtual Bill Qubes

The bill qube cell for a Virtual Bill Qube shows you its icon and color, bill qube name, bill amount ($15.59), and current qube balance ($0.00). The balance turns red when there are few days left until a bill due date. In the example above, you can see there are only 3 days left until the bill is due on May 15. Since this is a virtual bill qube and has its own unique account number and virtual debit card number, the last 4 digits of each are shown.
Merchant-Locked Bill Qubes


Most of the information shown for a Merchant-Locked Bill Qube is the same as a Virtual Bill Qube, except that there is no unique account number or virtual debit card number for that specific bill qube. In the case of a Merchant-Locked Bill Qube, your physical debit card number and main bank account number are used to 'lock' that qube to a single merchant or vendor. In the picture above, the first bill qube is locked to merchant 'Netflix.' The lock is established after the first successful payment to the merchant goes through. Until then, in place of the merchant's name, you will see 'Awaiting first payment' as shown in the second bill qube in the picture above.
Please note: If you created your Qube account after March 16, 2022, you will not see or have the option to create Merchant-Locked Bill Qubes. As of April 11, 2022, creating NEW Merchant-Locked Bill Qubes has been disabled for all users. Existing Merchant-Locked Qubes will continue to work until further notice.
5. Below is a full view of the Bills Screen with both types of Bill Qubes living in harmony: