Family is here!! To learn how to upgrade your Lite or Premium account to a Family account, click here. Once you've upgraded to Family, you can then add authorized users.
To add a kid (under 18) or an adult (over 18) to your Family account, you'll need to be logged into the Primary Account Holder's account.
They will get:
Their own account number
Their own debit card
Their own separate qubes and budget
Note: The primary account holder will have full access to all the accounts added as part of the Family plan. Your authorized users will NOT be able to see any of your own account information, budget, or qubes.
When you add a kid with a phone number or an adult, you will need to have them with you, as an authentication code will be sent to their phone, and you will enter it during the signup process. They will also need to choose a password for their Qube account.
On both web and inside the app, you can switch views to see your authorized user accounts and qubes.
To add a kid or adult:
Login to https://dashboard.qubemoney.com/manage-account, and you should see a section in the lower left called Authorized Users.
Click on Add a Kid or Add an Adult.
Follow the prompts to add an authorized user! There are unique kid and adult card designs to choose from.
Once successfully added, you will see a confirmation message, and their debit card will be shipped right away (expedited shipping is an option).
They will get a text message to their mobile phone (unless adding a kid without a phone number) with a link to download the app. They will login with their phone number and the password you just created.
You can help them get started by sending them money through a To Friend transfer!
Please note: You may need to wait 2-4 hours before being able to add their card number to Apple Pay or Google Pay. If it does not work the first time, wait a few hours and then try again.
If you have any problems with this process along the way, please contact Customer Support.
View after adding a companion, kids, and an adult: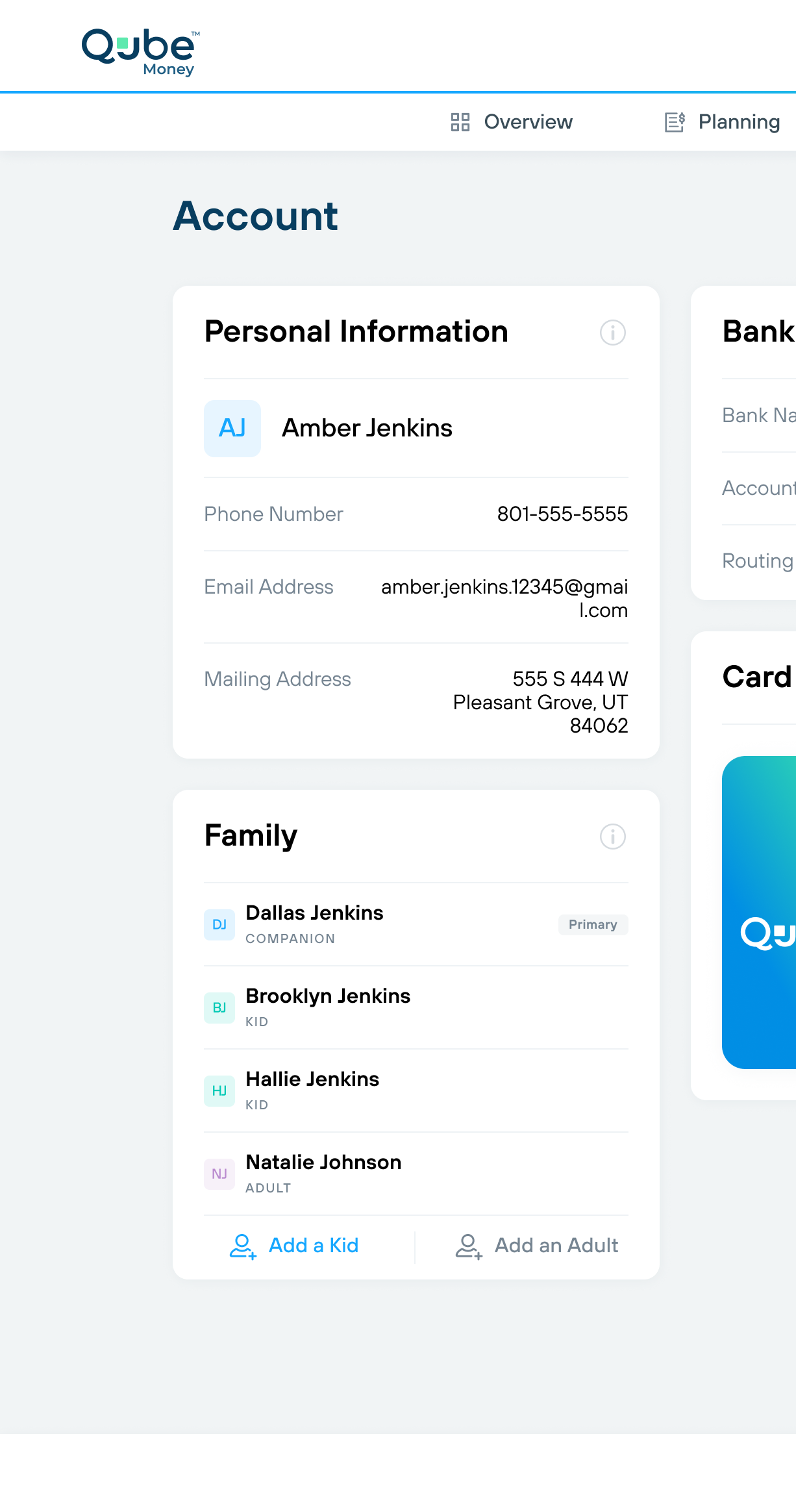 As the primary account holder, you are responsible for all transactions, deposits, debits, and credits.