Think of your Qube Cloud as a big holding bucket for all money deposited into your Qube account. Direct deposits, ACH Transfers, Card Deposits, Third-Party app transfers, Peer-to-Peer Payments, Refunds, etc... these will all be deposited into your Qube Cloud.
Instead of your money sitting in just one bucket like a traditional checking account, qubes allow you to divide up your money into many little buckets, which helps you plan and spend with intention. Your Cloud is your "Big Bucket" from which you fill up all your little buckets.
While in your Qube Cloud, your money is waiting to be assigned a purpose - waiting to be assigned to a qube! Your job is to give your money purpose by moving it from the Cloud into your designated qubes. This can be done individually or in bulk, from the Funding Screen. Until then, money cannot be spent.
The chart below shows the flow of your money from deposit to spending: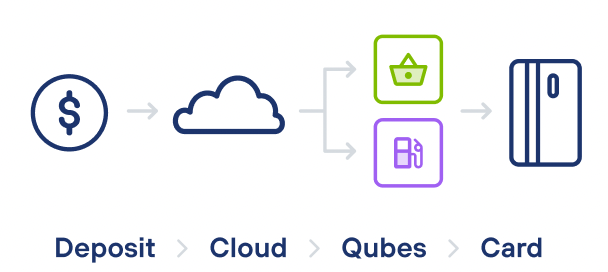 You can view your Cloud details by visiting the Overview

screen and tapping Cloud. You will be able to see all of your Cloud transactions in one place.
Now that you're a Qube Cloud expert, go fund those qubes!